Ready mixed skin shades for quick, accurate and easy skin colour matching.
Spectromatch has developed a 'by eye' colouring range that produces improved levels of colour constancy under various lighting conditions and between different observers.
How does it work?
A database of hundreds of measured skin tones allowed us to observe how skin tones occupy colour space. This enabled us to select our base shades so that they produce accurate starting points for any skin tone.
Using our colour formulation algorithms to define optical properties we have formulated the tints necessary to achieve a match for any skin tone from any base shade. Using these tints reduces recipe sensitivity; therefore you are much less lightly to under or overshoot when adjusting your colour.
Using our recipe prediction engine we have formulated each Reality base shade to mimic the optical properties of real skin so the match is maintained when viewed under different lighting conditions and by different observers, thus greatly reducing metamerism.
Skin measurements made with a translucency probe have enabled us to derive the exact pigment loading levels required to achieve the most natural looking prosthesis for any skin tone.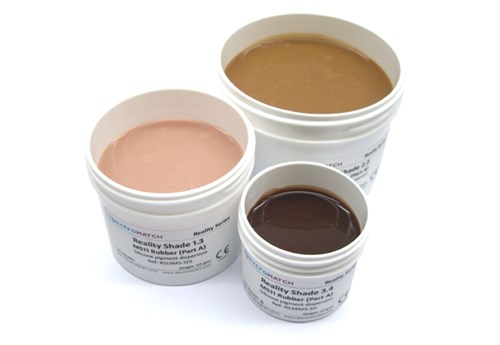 Reality Series for liquid silicones
Reality Series LSR consists of thirteen base skin shades and four tints. In combination with our Expert Series Flocks any skin texture can be achieved.
Reality Series for gum silicones
Reality Series HCR pigments are supplied in gum like consistency for easier and cleaner dispersion into HCR gum silicones.